Cosplay Conventions Calendar
Calendar of Cosplay conventions. See past, future, cancelled, rescheduled, virtual, and Golden Ticket Cosplay conventions by state.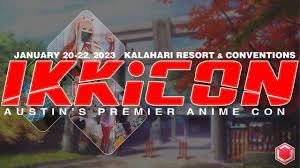 IKKiCON 2023
IKKiCON is a Japanese Animation and Pop-Culture Convention held annually in Austin, Texas.  IKKiCON traditionally runs for three days during the beginning and/or end of the calendar year.  We pride ourselves in bringing together the most amazing anime and pop-culture fans and guests to enjoy our events, panels, and workshops.  ...
Anthro New England TRAINS! 2023
Founded in 2014 and with its inaugural convention held in 2015 in Cambridge, Anthro New England is one of the largest new furry conventions. Located in the very heart of Boston, Anthro New England celebrates the uniqueness of this historic city and the surrounding region – an area that is...