Cosplay Conventions Calendar
Calendar of Cosplay conventions. See past, future, cancelled, rescheduled, virtual, and Golden Ticket Cosplay conventions by state.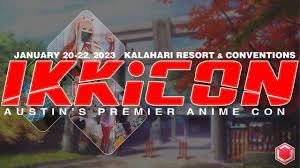 IKKiCON 2023
IKKiCON is a Japanese Animation and Pop-Culture Convention held annually in Austin, Texas.  IKKiCON traditionally runs for three days during the beginning and/or end of the calendar year.  We pride ourselves in bringing together the most amazing anime and pop-culture fans and guests to enjoy our events, panels, and workshops.  ...